About Me
---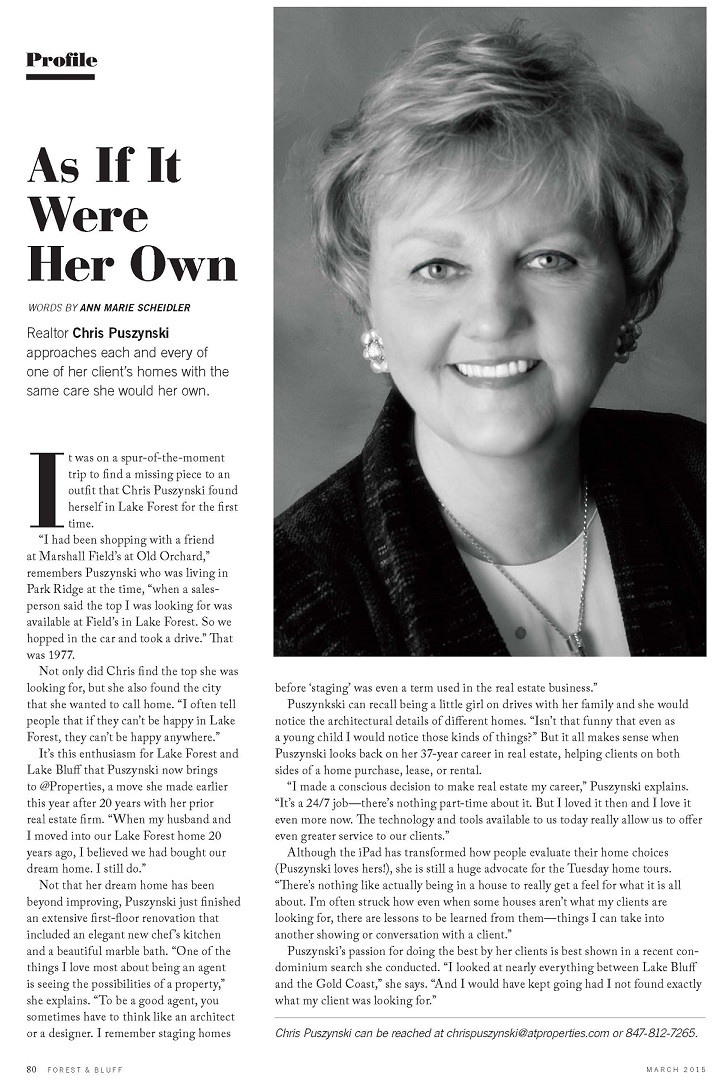 An award winning real estate agent since 1977, Chris Puszynski helps
clients upsizing as well as downsizing on the North Shore.

Chris Puszynski has served the community as a real estate agent and broker since 1977. She has negotiated the purchase and sale of hundreds of single family homes, townhomes and condos across the city and suburbs, working with families and investors to reach their real estate goals.


Chris's entrepreneurial foundation has brought her to lead others in real estate, through her roles as the current director and former president of Women in Real Estate, member of the North Shore Barrington Board of Realtors, Illinois and National Association of Realtors, and has chaired the local Chamber of Commerce real estate committee.


Chris continues to extend her talents in property staging, decorating, distressed properties and renovations. In addition, her abilities in marketing, management and public relations has allowed her to be creative and innovative in her efforts. She was staging and marketing properties before it became commonplace.


She is a native of Illinois and currently resides in the northern suburbs with her husband Ron enjoying her grown children and grandchildren.
Clients are saying:
"Chris came highly recommended by my best friend who worked with her in the past. I had reservations as I looked at the @Properties website and saw the beautiful houses she has listed and has sold. I expressed this to Chris, she laughed and said she would give my house as much attention as any house she lists, and she did. Chris was working for me from the moment she arrived, making suggestions while walking around the house she assessed the interior and exterior. At the Lake Forest office she made me feel like my house was the biggest and best that she had listed by all of the work she had done getting together comparable homes to come up with the appropriate market value. Chris has excellent knowledge of the real-estate market. She was very professional and quick to find and act on anything new that hit the market that may have an effect on the sale of my home. The talented photographer she works with, brought out the best features of my house in the photos and presented it a beautifully artistic way. After I accepted Chris as my agent I was her only client. She worked for me all hours of the day and night. Okay, I wasnt really her only client, but she made me believe I was. She was always there for me and answered my texts, and calls quickly, kept me up to date on all showings and open houses, and helped me make smart, informed decisions. Although Chris redefines the standards on all of these things above, thats not what sets her apart from other agents. We dont always get them, but we expect all these things from an agent as part of their job. Chris is an agent who goes above and beyond these expectations from the listing to the sale and closing of the house. I moved out of state to start a new job before my house sold. Chris continued all her excellent work to sell the house, handling all of the business transactions that I couldnt be there for. She also took over watching my house, keeping the driveway cleared of snow, checking that the windows were secure, and taking out the trash. She was even there managing things when a repair needed done. I cant express how much all of this meant to me when I couldnt be there. When the house sold, Chris orchestrated the entire deal, helping me to understand the contracts and meeting deadlines. She worked with the new buyer, my lawyer and the inspectors. I dont know what I would have done had it not been for her. Chris started out as my real-estate agent, but she became my friend."
600 N. Western
Lake Forest
IL
60045