About Me
---
Darren Seefeldt pursued his passion for real estate in 2014 when he joined @properties following a career in construction and facilities management as well as nine years of service in the Illinois Army National Guard. Darren's attention to detail, experience, hard work, and commitment to personal service quickly set him apart, earning him the 2014 Community Association of Realtors Rookie of the Year. Darren is also a certified Military Relocation Professional and an expert in the VA loan and condo approval process.
In addition to joining @properties, Chicago's largest independent brokerage, Darren also belongs to the Brian Grossman Group, one of Chicago's consistently top-producing teams. The unsurpassed technology, marketing, and resources provided by @properties along with the experience and proven strategies of the Grossman Group made this a clear choice for him, which greatly benefits his clients.
Beyond Darren's commitment and experience in real estate sales, he is also a licensed Community Association Manager and owner of Good Steward Building Management. This experience in both real estate sales and HOA management brings added value to clients selling or buying condos and townhomes in Chicago. His experience in market analysis, sales, negation, condo law, and construction, coupled with going above and beyond just listing and showing properties, gives his clients a distinct advantage and consistently positive experience no matter where they are in the home ownership process.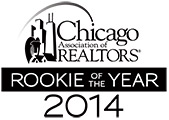 Clients are saying:
""Darren was amazing. With his background it's like having an inspector with you every step of the way. He was always upfront and honest about properties and knew where I was wasting my time. Appreciated the honesty and I always knew he was looking out for my best interests. He went above and beyond in every way he could. Would recommend him to anyone looking for a place. " Ryan (Roscoe Village)"
4100 N. Lincoln Ave
Chicago
IL
60618