About Me
---
A native Washingtonian, Megan relocated to Chicago after having graduated from the University of Dayton with a degree in Communications. She began her career in the financial services industry before venturing into the world of information technology, representing clients ranging from Fortune 500 companies to boutique start-up firms throughout the process. With over 15 years of sales, marketing and client management experience, her transition into real estate was seamless. Megan's personal and professional passion for real estate combined with her strong and honest work ethic has earned her a reputable trust among both her client base and colleagues. Megan is currently a member of a Top Producing @properties team, with a focus on Residential Sales and Luxury Leasing, proudly serving the downtown Chicago market and surrounding suburbs.
Average Selling Price to List Price Ratio: 99.5%
Average Days on Market: 12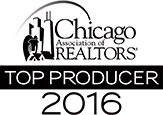 Testimonials:
Megan is highly detail oriented and works diligently to provide the best options available. Her negotiation skills and understanding of the Real Estate market offer an asset that is second to none. She is excellent at understanding the needs of her client and works to fulfill them rather than convince to compromise to close a sale. She is integral and surrounds herself with excellent contacts to assist in every aspect of a sale or rental.

Megan, I can't thank you enough for all you've done for me and the residents of my building.
Top qualities:Great Results, Expert, High Integrity
- Dave Gelfand
I would recommend Megan to anyone looking to buy/rent real estate in the Chicago area. She was very patient with me as my mind changed time and time again until she found the right place for me. During the (long) short-sale process Megan was always up-to-date with the latest news and worked diligently to make sure I had all of my ducks in a row. Now that I have relocated, I again turned to Megan to list my property for rent; and because of her I can successfully say that I am a landlord beginning in June! I am very thankful for Megan and all of her hard work and attention to detail since I hired her in 2009...Great job Megan!
Top qualities:Personable, On Time, High Integrity
-Jim Conlin
Megan was an absolute pleasure to work with. Even when provided with a stringent list of criteria to work with during my apartment search, she was able to compile a sizable list of options in rapid time and at very reasonable rates. During the apartment viewings, she was personable and informative, and at every other step of the process, she was there to offer support, suggestions, and additional information. A highly organized professional, invested in her clients, and who remained in constant contact through every step of the process, Megan is a first rate real estate consultant. I cannot recommend her services enough.
Top qualities:Great Results, Personable, High Integrity
-Jillian Davis
Clients are saying:
"Megan is a life saver. She sold our condo which had been underwater since the housing crisis. She was so incredibly friendly, responsive, extremely knowledgeable, and really made something that could have been a nightmare (if we hadn't sold) become a dream come true! I can't recommend her enough."
906 N. State St.
Chicago
IL
60610