About Me
---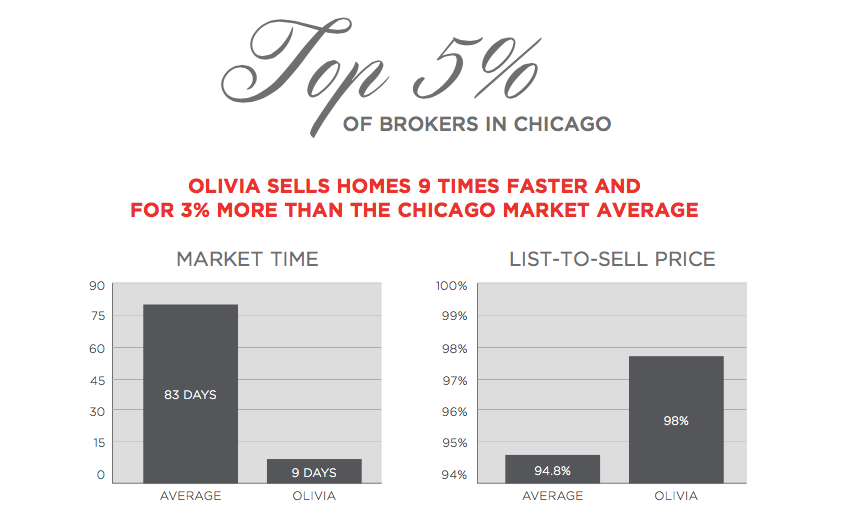 Olivia Carlson is passionate about turning transient members of our city into Real Chicagoans who are deeply connected and invested in their community. She delivers superior results by taking a highly personal yet methodical and analytical approach with each client. As a result, she sells homes 9 times faster and for 3% more than the Chicago market average and was awarded the Rising Star for her significant accomplishments during her first year in real estate. 100% of her business last year was from pleased client referrals.
I™ve learned that clients appreciate quality information, which can be used to develop an intelligent pricing strategy and an upfront approach to negotiation. My goal is to provide an unsurpassed level of analysis to help you to make informed decisions and a confident investment. Customer service is my biggest priority.
Olivia makes every client feel valued, respected and more than confident that she will deliver when she promises and exceed expectations on a consistent basis. She is reliable, dependable and a pleasure to work with. Olivia can always be counted on to do the ethical thing, make the right decision and lead by example in all aspects of her life. Christina S., client
We have known Olivia as an Interior Designer and Architectural Products Sales Representative, so when it came time to select a realtor for our relocation to Chicago, she was a natural choice. With her educational background coupled with her knowledge of the city, Olivia was able to decipher our social and architectural wish list and showed us options to meet all of our needs. Not only is she pleasant and easy to work with, her innate understanding of our requests made the stressful process of finding a new home an enjoyable experience. Robin B., client
No one was surprised when The Gallop Organization identified my top strengths as Activator, Achievor, Responsibility, Maximizer, Focus and Futuristic. Learning about my customers needs, goals and dreams is how I thrive- and then I do my best to make it happen!
I permanently moved to Chicago after graduating from Purdue University where I studied Interior Design. After a short design practice, I submerged myself into the product side of Interior Design, becoming an expert in wood furniture and commercial carpet.
Beyond Real Estate, I continually pursue connecting with my community. I™m passionate about training women to be leaders and involve my time with Girl Scouts, Young Life and women's small groups. I also love to paint, invent, run, cook and travel. I currently have a patent-pending for a women's product that I hope to license. For fun, I tackle freelance branding projects and often lend my creative skills to marketing teams for brainstorming sessions.
Clients are saying:
"It was a pleasure working with Olivia and appreciate her gudance and insight. Her attention to detail and follow up is bar-none! I wish the other brokers we met along the way would take a page from her play book. I will recommend Olivia to anyone needing to sell or buy and would use her on my next transaction. @ properties is very fortunate to have such an exceptional person on their team."
548 W. Webster Ave.
Chicago
IL
60614