About Me
---
What clients are saying:
I would highly recommend Susan Lawrence to anyone looking to sell and/or purchase a residence. She was very professional and knowledgable about all the moving parts associated with a home sale/purchase. Additionally, she was very responsive with all our questions and extremely accommodating in our numerous requests for showings during our house hunting/search, even during the holidays. It can be an overwhelming experience and I'm so glad she lead the way for us step by step. Susan is definitely a major component in helping us find the home of our dreams. We'll be forever grateful!!! The Adamek Family, clients since 2013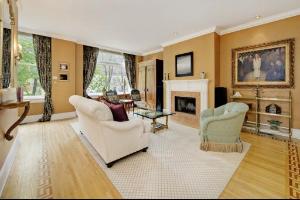 We have previously worked with Susan 11 years ago for the purchase of our condominium on Astor St. She is extremely knowledgeable and practical, yet has the wonderfully positive and almost rare patience (I have met sizable number of real estate agents who have no patience to give buyers time) that let us hang onto Susan for almost too long while we kept looking for the house we REALLY like. Susan is a true professional with the wealth of knowledge and skills achieved through her career and experience, and has such a wonderful personality and excellent sense of humor. We had a wonderful time working with Susan. If it weren't for Susan, we would never have found the house that we are truly happy with. Even when we were nervous and losing our calmness, Susan was always there for us. Now that we purchased our new home, we are looking forward to asking her to be our seller's agent for our condominium. It will be a pleasure to work with her again. -- Clients since 2002
We've worked with Susan Lawrence repeatedly, on some challenging issues for selling or renting our property. She has always been extremely helpful, knowledgeable, and smart about negotiating.-- SZemelman, clients since 2010
AAAAplus, plus, plus
We all need an agent/broker like Susan. Professional, timely with communications and goes the extra mile to find the best result-- RIKnapp, client since 2010
Susan is absolutely fantastic!! She's helpful, thoughtful, kind, thought of things we didn't know to. Susan
was very patient while we dragged her all over town looking at prospective properties - and remained the voice of calm when the actual "buying process" got hairy. Susan really took her time to explain things to us newbies - and made our first home buying experience uber wonderful. She is an excellent communicator - did not belittle us for not knowing things - she's not arrogant in any way - she's just a bright ray of sunshine! Our Fish even like Susan! We've already recommended her to a few people and will continue to! We know if/when we ever go to list our new home (many years down the road) we're calling Susan!!!
-- CHolz & DLim, clients since 2013
Susan (Lawrence) is a wonderful, professional and effective broker. We became acquainted when I was buying my first home. Even though she was the selling agent in that encounter, she stood out right away as being on top of things, firm and professional but pleasant. These are the qualities that I look for in an agent
because I want someone who will work hard to get the sale to go through, be thorough but make the process as smooth and pleasant as possible. When it came time to sell my home, I didn't think twice to go with Susan. The showings were seamless, respectful of my space, non disruptive to my schedule and my home sold quickly at just about my asking price. Thank you, Susan -- YKudota, client since 2013
I needed to sell a rental property, and Susan helped with many aspects of the sale: preparing the property for sale, listing, marketing, showing, contract negotiations, closing, etc. She put in a lot of work throughout the process and always kept me well informed. The property was sold quickly and at a good price. I am very pleased with the outcome. -- MMaslov, client since 2009
Susan Lawrence was an absolute pleasure to work with. We had a very small window of time to secure a property and she helped us find our dream home and
close on it in time. From start to finish, Susan helped us with every aspect of the process including property research, negotiations, and our closing. Her passion for architecture, the history of Chicago neighborhoods, and knowledge of Lakefront properties were evident throughout, and we would highly recommend her expertise to anyone looking to find a home!
-- The Tolands, clients since 2013
We felt Susan Lawrence was extremely knowledgable and very professional.
She made the sale of our home incredibly easy for us, and we had a buyer within 2 days! We would recommend her highly to anyone we knew who wished to sell their home. --The Goldstein Family, clients since 2012
* * *
Can you make an old house GREEN?
In 2010, I earned the National Association of Realtors™ Green Designation. This educational experience is a starting point for helping me guide clients in considering opportunities for making homes more energy efficient.
It is easy to embrace Green Living in a new home, built to LEED standards. But, it's VERY challenging to Go Green in drafty old vintage homes like ours!
There are, though, small changes we can each make everyday to save energy and reduce our impact on the planet.
Did you know that less than 5% of US households
use even one CFL bulb?
According to ENERGY STAR, a joint program of the U.S. Environmental Protection Agency and the U.S. Department of Energy, if every American home replaced just one light with a lightbulb that's earned the ENERGY STAR, we would save enough energy to light 3 million homes for a year, save about $600 million in annual energy costs, and prevent 9 billion pounds of greenhouse gas emissions per year, equivalent to those from about 800,000 cars.
So change a lightbulb this month. (Some of them aren™t that ugly, anymore!) Visit http://www.energystar.gov/index.cfm?c=home.index or http://www.greenerpenny.com for more ideas of small changes that can make a big difference in your old home.
Susan
Clients are saying:
"I was highly impressed with Susan Lawrence throughout the entire process of selling my home. I had undergone a frankly miserable experience in 2004 when selling my home in another city and came into this process of selling my Chicago condo with a sense of dread; however, Susan made this by far the easiest real estate transaction I've ever undertaken (either purchasing or selling). She immediately demonstrated her wealth of experience in the Chicago market and her knowledge in terms of what motivates people to buy, and what attracts people to a condo. She gave very sound advice regarding updating certain aspects of the unit, and also regarding when to list. She also has a large list of affordable, reliable and skilled professionals to help with such things as roof repair issues, window repairs, and other maintenance issues.
In the end, the unit was in contract less than 36 hours after it was listed, and the final close was 30 days after entering into contract. She was always rapidly responsive, calm and reassuring, and really made the entire process flow smoothly. I would certainly highly recommend Susan to anyone, without reservation."
3101 N. Greenview
Chicago
IL
60657