About Me
---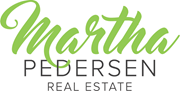 What Sets Martha Apart
I am a real estate broker who specializes customer satisfaction. If you want to sell your home or buy one, I can help you. Understanding your real estate goals and helping you achieve those are my highest priority. I work hard for my clients throughout the entire process. Follow-through, attention to detail, responsive communication, market analysis, negotiation skills and loyalty are what I bring to you. Whether buying or selling it is my goal to get you the best price in the shortest amount of time.
I have recently aligned with @properties, the #1 real estate firm in Chicago and the North Shore. @properties shares my commitment to you by offering the most comprehensive and professional marketing, sophisticated technology and expert market knowledge. @properties enables me to provide the highest standards of service and representation you expect and deserve. I bring results to clients whenever and wherever their buying and selling goals take them.
Lake Forest, Lake Bluff and the North Shore
My many relationships in Lake Forest and Lake Bluff, up and down the North Shore and in the office combined with market insight and outstanding personal service are the cornerstones of my business. As part of @properties Lake Forest, I can also offer you the benefit of advanced tools, beautiful and effective marketing, world-wide networking and market resources.
Some Personal Information
I have lived in the Lake Forest/Lake Bluff communities for over 45 years. While raising my three boys, I have worked in the community and have been involved in many local activities. You may already know me from around town, in the neighborhood, paddle tennis, my yellow lab, Sully, and my black lab, Anders.
A Note from Martha….
Buying or selling your home is a big deal. I am here to provide guidance at each step and make sure everything is completed in a timely fashion with the best results for you, my client.
Call me to discuss your next steps!
Clients are saying:
"If I hadn't have met Martha we may not have discovered Lake Bluff! Having listened to what we were looking for in an area she suggested Lake Bluff which I had never heard of. As I had some free time, she suggested I go straight away and check out the farmers market and walk around the village. She was right. I could tell that it would make a great place to call home. As a British family Martha was great at 'translating' the US process for us as house buying here is so very different to the UK. Martha communicated clearly whilst we were looking at potential properties, provided great details of the properties and then helped us through the negotiation, inspection and closing process. Thanks Martha!"
600 N. Western
Lake Forest
IL
60045