Luxury Buildings Report: Survey Shows Annual Sales Trending Down
Nov 7th, 2017
---
Is unit sales decline indicative of low inventory or a softening market?
Luxury sales activity in a subset of 15 high-end condo buildings is headed for a fourth straight year of declines based on closed transactions through the first three quarters of 2017. The 15-building sample includes luxury developments such as The Waldorf Astoria, Palmolive, Trump Tower, Park Tower, Lincoln Park 2550 and the just completed 4 East Elm.
The total number of closings was down 9%, from 144 units through the first three quarters of 2016 to 131 units for the same period this year. Additionally, the average price per square foot (PSF) for the data set declined 8.2% from $874 in 2016 to $802 through 3Q17. Average days on market was up by 6% (10 days).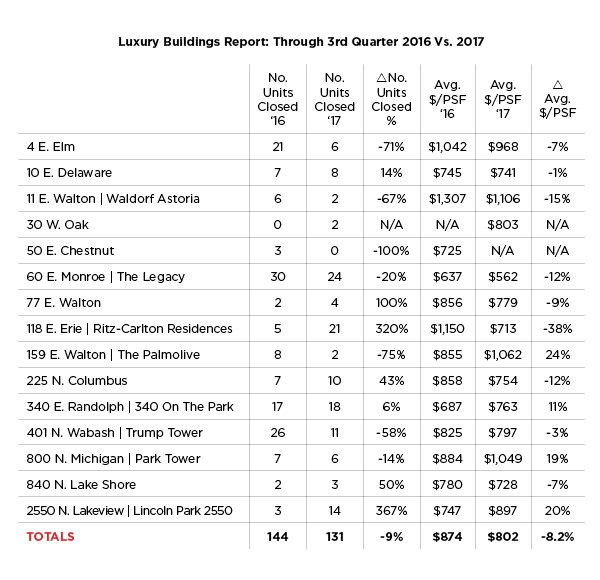 Real estate observers have grown accustomed to tying declining sales to limited inventory. And while any number of mitigating factors are at play in this relatively small survey, the data still begs the question of whether the high-end market may be headed for a slowdown after several years of strong post-crisis performance.
Among those mitigating factors, the units that have traded so far in 2017 have been less grand, in aggregate, than last year's crop. For example:
Three major penthouse sales occurred in 2016 – one each at The Waldorf, Ritz Residences and 4 East Elm. Those sales topped $1,800, $1,400 and $1,200 PSF respectively. Through 3Q17, only one unit has traded above $1,200 PSF.
Also in 2016, 4 East Elm saw the majority of its original developer inventory delivered, accounting for more than 20 transactions at an average of around $1,000 PSF. By comparison, only 6 transactions have occurred in the building this year, as the remaining few developer sales closed and the building assumed a more normal pattern of turnover.
Year-over-year transaction volume has actually increased at The Ritz-Carlton Residences in 2017, but activity has been focused around a block of units that were reduced in price, driving down the average PSF for the overall data set.
On a related note, average unit size for closed transactions in these buildings is down almost 10% year over year – from 2,317 square feet to 2,090 square feet. Generally, in the luxury market, larger floor plans command a higher PSF than smaller ones.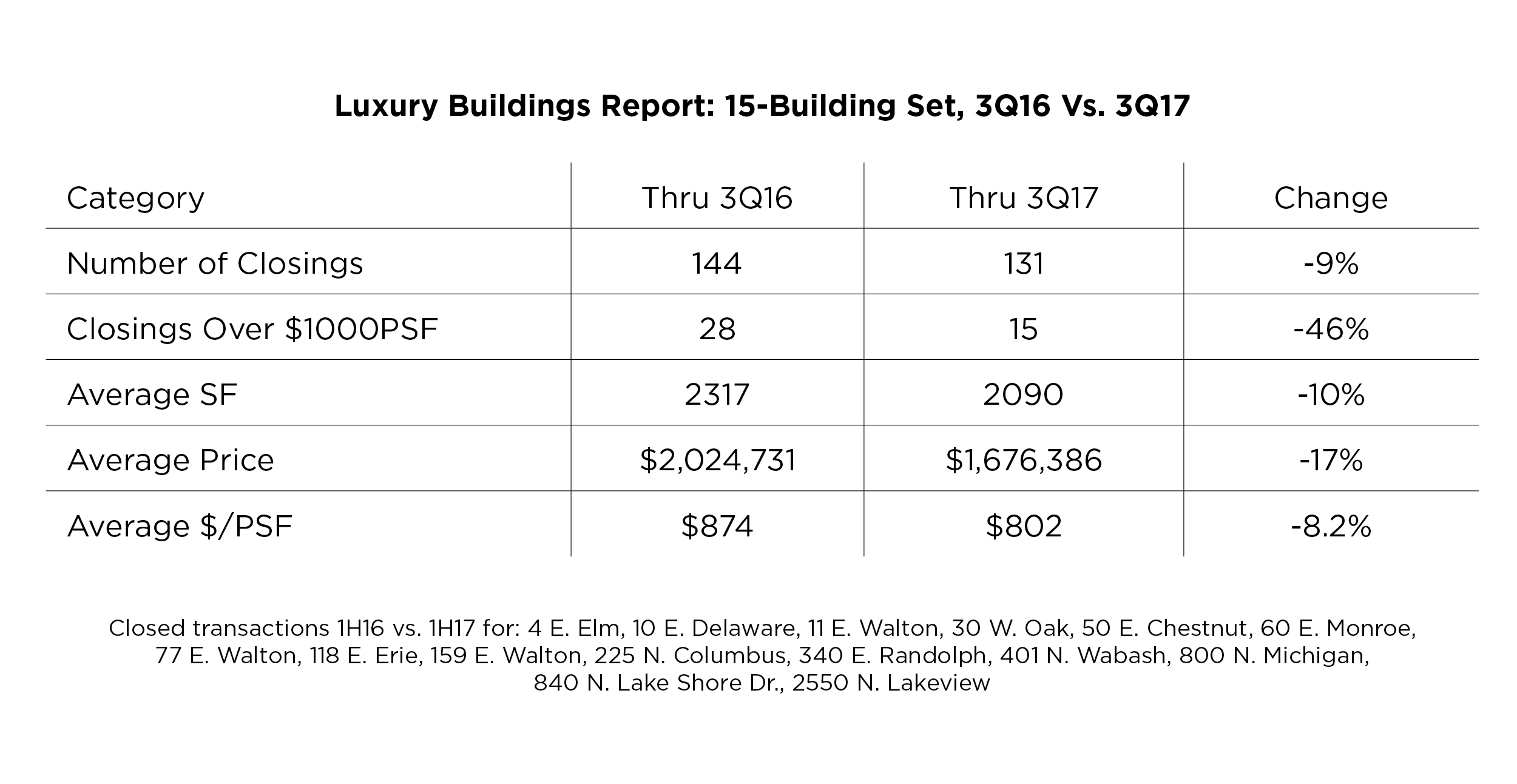 These conditions may explain the drop in average PSF, but questions still remain when it comes to luxury supply and demand.
Outside of the 15-building survey, unit volume for condominiums priced at $1,000,000 and up in the Near North and Loop market areas is up 9% year over year, through three quarters. That's good news, but active listings are up an average of 34% year over year. As a result, average Months' Supply of Inventory through 3Q17 is trending 20% higher than last year.
In the same two market areas (Near North and Loop), the median price of condos in the $1,000,000+ range has fallen 3.6%. And, year over year, the average price per square foot for these units was higher in just 3 of 9 months for 2017.
One cannot definitively conclude that the luxury market has plateaued. As the 15-building survey shows, the trend lines diverge depending on specific product types, locations, and price strata within the broader luxury segment. In fact, last month, the same developer canceled sales at one luxury condo development while announcing another just two blocks away. Still, the collective data points we monitor do appear to sound a cautionary note.
We will continue to research and report, with an update on the full year's activity delivered to your inbox in early 2018.
---