Mesa/Walsh Partnership Takes Developer of the Year Honors for the Legacy Luxury Condominiums in Chicago
Oct 30th, 2012
---
Developers of The Legacy at Millennium Park, featuring luxury condominiums in Chicago, earn nod from Chicago real estate brokers at 7th annual Chicago Agent Magazine Agents' Choice Awards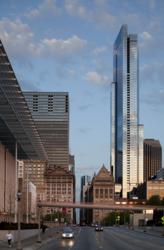 Chicago-based Mesa Development, LLC and Walsh Investors, LLC won the award for Developer of the Year in the city category at the seventh annual Chicago Agent Magazine Agents' Choice Awards, held Oct. 24. The development partnership was recognized for its Legacy at Millennium Park project, a 72-story high-rise, featuring luxury condominiums in Chicago.
Mesa/Walsh prevailed over two other finalists. The Agents' Choice winners are selected by professionals in the Chicago real estate industry.
The Legacy at Millennium Park offers homes ranging in price from $397,000 for an 875-square-foot one-bedroom, one-bath floor plan to $6 million for a 9,301-square-foot, full-floor penthouse. The tower features a number of upscale amenities, including an indoor pool and fitness center overlooking Millennium Park, 24-hour doorman, and three sky-garden terraces on the 15th, 42nd and 60th floors. A sky-bridge also connects the Legacy to the neighboring University Club of Chicago*, providing residents who are club members with direct access to all of the club's facilities. Non-members still enjoy certain University Club privileges, such as hotel rooms for guests and access to catering services.
"This award is very meaningful because it reflects the support of Chicago real estate brokers. They know the city's condominium developments better than anyone, so it's very gratifying that they recognize the significance and value of the Legacy," said Jim Hanson, principal of Mesa Development, LLC.
The Legacy at Millennium Park is exclusively marketed by @properties. A sales center and decorated models are located onsite at 60 E. Monroe St. Hours are 12 p.m. to 5 p.m. daily or by appointment. For more information, call (312) 252-0060 and visit http://www.TheLegacyAtMillenniumPark.com.
The University Club of Chicago is an independent private-membership club with admission governed by its own policies and bylaws.
About Mesa Development LLC
Mesa Development is a Chicago-based, national real estate investment and development firm with a long track record of success in completing urban, mixed-use residential projects. In addition to The Legacy, Mesa and Walsh Investors successfully completed the Heritage at Millennium Park luxury condominiums in Chicago in 2005. For more information, visit http://www.mesadevelopmentllc.com.
About Walsh Investors
Walsh Investors, LLC is the investment arm of the Walsh family, owners of The Walsh Group. The Walsh Group, headquartered in Chicago, is one of North America's largest general contracting, construction management and design-build firm. Walsh Investors, through direct investment and various partnerships and joint ventures, has developed or invested in office, industrial and residential developments throughout the United States and Canada.
About @properties
Established in 2000, @properties is the No. 1 residential brokerage firm in the city of Chicago by market share and the third largest brokerage firm in Northern Illinois. @properties is also Chicago's leading firm for the sales and marketing of condominium developments and conversions. The company has offices in River North, Streeterville, Lincoln Park, Bucktown, Lakeview, Evanston, Winnetka and Lake Forest, and is opening in Highland Park in early 2012. For more information, visit http://www.atproperties.com.
---