@properties Closes Out Sales of Luxury Condominiums at Elysian Private Residences
Oct 18th, 2011
---
Chicago brokerage firm takes over sales for final 11 condominiums at Elysian Private Residences. Sells $34 million in inventory in nine months at over $800 per square foot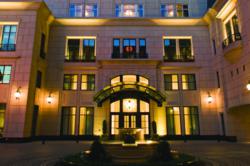 Chicago-based real estate brokerage firm @properties has announced the sellout of the Elysian Private Residences, 11 E. Walton St., in Chicago's Gold Coast. Elysian Private Residences is the ultra-luxury, 51-unit condominium component of a new 60-story high-rise that also includes the 188-room Elysian hotel.
Elysian Development, LLC, retained @properties late last year to sell the project's 11 remaining condominiums after a number of previous brokers struggled to complete the assignment. @properties provided a full range of sales and marketing services including strategic planning, pricing, brokerage, client relations, advertising, graphic design, and public relations en route to a successful sellout.
The project sales team, led by @properties' co-founders Michael Golden and Thaddeus Wong and brokers Kathleen Malone and Gwen Farinella, sold over $34 million in inventory, achieving an average price per square foot of more than $800 and an average market time of just 56 days. Nine of the 11 units sold for over $3 million.
"We took over a project where there was a lot of confusion and misinformation in the marketplace, and managed to achieve top-of-market pricing and strong absorption, while enhancing the Elysian's image as the city's most desirable new address," said Wong.
"The Elysian is a perfect example of the added value @properties provides to developers," added Golden. "We were able to generate a huge amount of exposure through our internal brokerage network and marketing programs, which brought an immediate response in terms of traffic and sales."
In addition to Elysian Private Residences, @properties is marketing a number of other new-construction developments throughout Chicago including Ten East Delaware in the Gold Coast, Six North Michigan at Millennium Park, SoNo in Lincoln Park, 757 Orleans at Chicago in River North, and R+D 659 and 770 Lofts in the West Loop.
The company has successfully sold more than 150 new-construction and condominium-conversion developments totaling more than 5,000 units valued at over $2 billion. For more information on @properties' development sales and marketing services, visit http://www.atproperties.com/developer-services.
About @properties
Established in 2000, @properties is a full-service real estate firm offering residential and commercial brokerage; property management; sales and marketing for new-construction and condominium conversion developments; and institutional services for distressed and REO property. The firm has more than 1,000 licensed brokers in seven city and North Shore locations: River North, Lincoln Park, Lakeview, Bucktown, Streeterville/Gold Coast, Evanston and Winnetka. For more information, visit http://www.atproperties.com/developer-services.
---