The Legacy At Millennium Park, Chicago Luxury Condos, Named Finalist For 2012 ULI Chicago Vision Awards
Apr 26th, 2012
---
High-rise development featuring Chicago luxury condos recognized for innovation, best practices and "contributing to the growth of vibrant communities"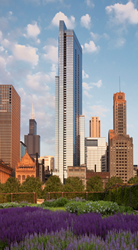 The Chicago District Council of the Urban Land Institute (ULI Chicago) has named the Legacy at Millennium Park, a new high-rise development featuring Chicago luxury condos, as a finalist for the 2012 Vision Awards, an awards program celebrating visionary projects, programs and developers in the greater Chicago area. Winners will be announced at the 2012 Vision Awards on June 6.
The 72-story new-construction Legacy at Millennium Park was designed by Solomon Cordwell Buenz and developed by Mesa Development, LLC and Walsh Investors, LLC, all based in Chicago. It features 356 condominiums overlooking Millennium Park, Lake Michigan and downtown. Remaining homes range in price from $393,000 for an 875-square-foot one-bedroom floor plan to $6,000,000 for a 9,301-square-foot full-floor penthouse.
The experienced development team devised a number of creative solutions to design, construct and sell one of Chicago's tallest and most luxurious new residential high-rises, which is bordered on two sides by landmark districts: Wabash Avenue's Jeweler's Row District to the west and the Historic Michigan Boulevard District to the east.
Mesa and Walsh preserved three historically significant facades along Wabash; negotiated air rights with their neighbors to the east to preserve views of Millennium Park and the lake; and constructed a sky-bridge connecting the Legacy at Millennium Park with the neighboring University Club of Chicago*. They also incorporated world-class amenities including an indoor pool and fitness center overlooking Millennium Park and three sky-garden terraces on the 15th, 42nd and 60th floors.
The Legacy has also received widespread acclaim for its contemporary architecture, which complements Chicago's iconic skyline. The building was a finalist for the 2010 Emporis International Skyscraper Award and was also named Best New Residential Building of 2010 by Friends of Downtown.
According to ULI Chicago, the Vision Awards honor those projects and programs that have used creative development practices, inventive partnerships or sharing of resources, imaginative problem solving, or visionary ideas contributing to the growth of vibrant communities.
"The Legacy truly embodies ULI's principles of thoughtful land use, planning and design, and we are honored to be recognized as a Vision Awards finalist," said Richard A. Hanson, principal and founder of Mesa Development, LLC.
The Legacy at Millennium Park's Chicago luxury condos are exclusively marketed by @properties. The sales center is located in the building at 60 E. Monroe St. Hours are 12 p.m. to 5 p.m. daily. For more information, call (312) 252-0060 and visit http://www.TheLegacyAtMillenniumPark.com.
*The University Club of Chicago is an independent private-membership club with admission governed by its own policies and bylaws.
About ULI Chicago
ULI Chicago (http://www.chicago.uli.org), a District Council of the Urban Land Institute, has more than 1,000 members in the Chicagoland area. Organized in 1986, the district council celebrates 25 years in 2012. ULI Chicago provides expertise and guidance on land use and development issues to local communities through comprehensive technical assistance services and infrastructure initiatives. The district council hosts monthly meetings, trends conferences, policy forums, and networking opportunities for its members and others in the real estate industry.
About Mesa Development LLC
Mesa Development is a Chicago-based, national real estate investment and development firm with a long track record of success in completing urban, mixed-use residential projects. In addition to The Legacy, Mesa and Walsh Investors successfully completed the Heritage at Millennium Park in 2005. For more information, visit http://www.mesadevelopmentllc.com.
About Walsh Investors
Walsh Investors, LLC is the investment arm of the Walsh family, owners of The Walsh Group. The Walsh Group, headquartered in Chicago, is one of North America's largest general contracting, construction management and design-build firm. Walsh Investors, through direct investment and various partnerships and joint ventures, has developed or invested in office, industrial and residential developments throughout the United States and Canada.
About @properties
Established in 2000, @properties is the No. 1 residential brokerage firm in the city of Chicago by market share and the third largest brokerage firm in Northern Illinois. @properties is also Chicago's leading firm for the sales and marketing of Chicago luxury condos and condominium developments. The company has offices in River North, Streeterville, Lincoln Park, Bucktown, Lakeview, Evanston, Winnetka and Lake Forest, and is opening soon in Highland Park. For more information, visit http://www.atproperties.com.
---