Preview: 2015 Chicago Development Market Outlook
By Michael Golden and Thaddeus Wong on Jan 16th, 2015
---
Chicago condominium development is revving up again, and @properties is representing some of the first new high-rise condominium developments to hit the market in years.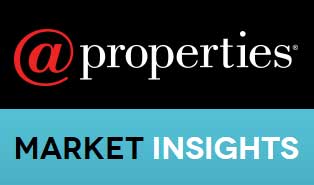 Chicago condominium development is slowly but surely coming back. And we're honored to be representing some of the first new high-rise condominium developments to hit the market in years. @properties has been on the forefront of the housing recovery — from the early workouts that followed the crash to the new single-family and apartment developments that helped spur a revival to the new-construction for-sale activity we are seeing today. And we're studying the results to share with the developer community. Our upcoming 2015 Chicago Development Market Outlook takes a more forward-looking view than past @reports to help developers refine their plans for 2015 and beyond.
Convexity Properties' bold 4 East Elm project is proving to be a good test case for high-end development in the city with implications for the broader Chicago development market. Only the second new condo high rise to break ground in Chicago since the Great Recession, 4 East Elm hit 50% sold in just three months and is now at 70% sold — 12 months ahead of completion. Blended price per square foot has risen 5% during that time to over $900, providing more input for our study of the broader $1,000+ opportunity. Re-sales at nearby properties such as 30 West Oak and the Waldorf Astoria (Elysian) are also trading in that range and higher. But a caveat for PSF daydreaming developers — programming at 4 East Elm has been meticulous.
@properties Developer Services has been expanding into the apartment sector, and projects such as Webster Square's 75-unit apartment component and 850 Lake Shore Drive are providing a look at leasing opportunities in 2015 and beyond. Several other case studies have also been updated and created in preparation for the 2015 @report, including a new study of the successful Mallinckrodt in the Park workout.
Register now to join us for our 2015 Chicago Development Market Outlook webinar on February xx. We'll share stories and data from the forefront of the development recovery and reemergence, and open up the conversation during a Q&A session at the end.
Sign-up for email alerts to stay in the loop on all of the latest case studies, webinars and other development-related research.
---