Development Marketing
---
As Chicago's leading residential brokerage firm, @properties generates more marketing exposure for developments than any other broker or marketer. @properties' concentric development marketing approach stages a series of controlled releases to a progressively broader sphere of prospects. Starting with a highly engaged network of more than 1,500 brokers, @properties slowly widens marketing programs to more than 800,000 prospects and clients.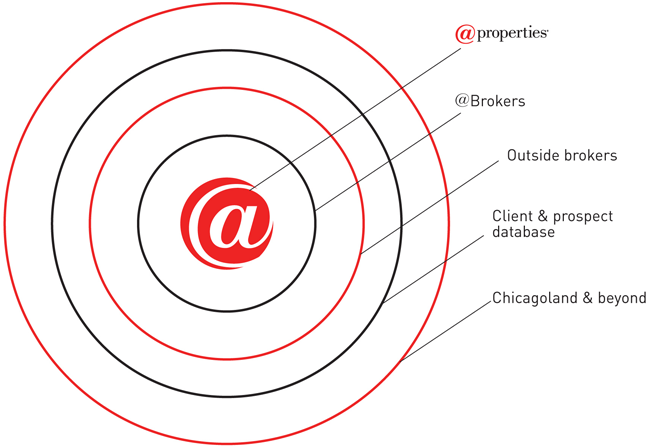 Developments eventually receive global exposure to more than 1.2 million additional luxury homebuyers from 200 countries and territories each month. Staging development sales in this way enables developers to optimize pricing and balance inventory — maximizing returns and minimizing risk.
Working with @properties also provides developers with access to an award-winning in-house marketing team. Our full-service agency capabilities boost your project's exposure while eliminating the risk of high agency fees.
Graphic design
Project logo/ID
Signage
Collateral
Advertising
Media planning & placement
Budgeting and scheduling
Ad production
Discounted rates in local and national media
Ad placement
Print & digital
Public relations & social media
Press releases
Social media marketing
Media relations
Blogging
Digital marketing
Website design & development
Prominent exposure on Atproperties.com
Pay per click advertising
Ongoing site maintenance
Enhanced online listings on leading real estate portals (Zillow,Trulia, Realtor.com)
Search engine optimization
Email marketing
Design & programming of project e-blasts
Distribution to @properties' proprietary database of 800,000+ contacts
Printing
In-house digital printing for brochures and collateral
Print coordination/management for outside printing jobs
---